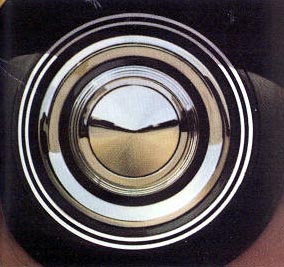 To render chrome effectively you must first choose an environment to be reflected onto the surface of the chrome. In the photo above you can clearly see the earthy color of the road below and the paler blue sky above. Downward facing surfaces will reflect the ground and upward facing surfaces will reflect the sky. Look closely at each ring on the hub cap and guess the angle by what is being reflected.
A reflective colored surface will do the same, but the effect is dramatically influenced by the local color beneath the reflection. A darker color will reflect its environment more clearly than a lighter finish, especially white.
All the lighter shapes on the surface of the above vintage automobiles are reflected images of the sky above. The local color is shifted toward a blue hue (making it more red-violet or violet) and lightened (desaturated with white) where the reflection is visible. These details are hard to invent, but we can begin to make some generalizations.
------------------------------
View more of my artwork at:
www.spencerhallam.com